How do I choose the right Hosting Package?
When you contact us as a potential client, the first thing we will do is talk with you in detail to clarify your needs and desires. Part of this discussion will determine which hosting package is best suited for you. As a general standard however, here are brief descriptions of the common packages.
E-Flyer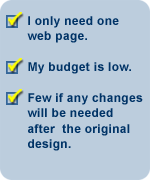 The E-flyer is the minimalistic approach to having an online presence. Typical E-Flyer clients are mainly interested in having e-mail accounts set up through their Domain Name, or want a simple single page online to direct visitors to who they are, what they do, and how they can be contacted. There are many of these sites on the internet, and it is a very common practice for small businesses that do not have online services and require very little, if any, changes over the years. If you only need a small page to direct vistors on how to reach you in person, and you only need to make changes to the information once or twice a year, this is the most affordable option available.
D.I.Y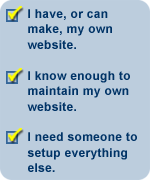 The Do-It-Yourself package is best suited for those with relatively smaller websites, that have experience on how to build and maintain their own website. RocWorx would setup the server account, setup all of your email account needs, and provide you with FTP login info for the account. Using one of the many common FTP software clients, you would then have direct access to upload your website and change it as needed. This package is best for those that have web design experience, yet you will have RocWorx to take care of the back-end administrative needs for you.
Managed Hosting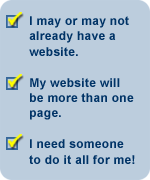 The most common hosting option for small businesses, managed hosting frees you from all of the 'dirty work' involved in maintaining your website. RocWorx will set up your account, get your email needs configured, setup your webpage so it is accessible by the public, and take care of any maintenance to it as you need. The basic package allows for routine modifications to your site/account, typically on a monthly basis. Extended maintenance contracts are available, as outlined below. If you have no experience (or in most cases, no time) with online publishing, then this is the best option for you.
E-Commerce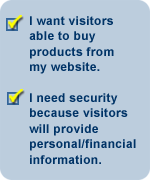 If you are interested in providing online services, then an E-Commerce package is for you. RocWorx has a number of common E-Commerce tools (such as shopping cart systems, SSL certificates, data encryption, password encrypted directories, databases, etc.) that can be installed into your account. These types of sites do require a larger amount of data storage and transfer quotas, not to mention security safeguards, hence the larger costs. For security reasons, and protection of your customer's personal information, SSL Certificates and Dedicated IP's are required options for E-Commerce packages. Information on SSL can be found HERE.
Maintenance Contracts
Maintenance contracts for your website will be customized to your needs, but all follow the same general guidelines, based on frequency and time commitments to execute the maintenance. When we refer to 'website maintenance', we are referring to updates to existing content on your website, such as swapping images, modifying text, updating tabulated data such as price sheets, adding/deleting email accounts, etc. Major revisions, such as addition of new pages or large amounts of new content, fall under Design policies, and are priced accordingly.
The basic Managed Hosting package allows for minor changes to your website, up to once a month as needed. Typically a client will email our design team with requests such as updating one image to a newer one, changing body text to reflect new or discontinued services, changing prices, etc. There is not a set monthly schedule for when you can submit these requests. Notify us as you need to. In fact, understanding the needs of the typical business, we tend to be very lenient with the frequency of these requests. If you had overlooked an item in the update request you sent last week, but need it changed asap, let us know and we'll get it in within 12 hours.
Additional maintenance contracts are available for more frequent changes, such as on a weekly basis. These are common among clients that need weekly updates to inventory and pricing data on their website. At the moment, 24/7 Dedicated Webmaster services are not available.
| | |
| --- | --- |
| Yearly or Monthly | $9.99 / Month * |
| Bi-Weekly | $39.99 / Month |
| Weekly | $69.99 / Month |
| Daily | $399.99 / Month |
| 24/7 Dedicated Webmaster | Contact for Custom Quote |
All updates, excluding 24/7 maintenance contracts, will occur 8-24 hours after submittal to RocWorx.
* - Included in Standard Managed Hosting Package.