Everything you Need, from One Source
RocWorx can provide everything needed to get you established online, whether it is for business, personal, or public service. No longer is there a need to keep track of different bills from a variety of specialty web service providers, and at a considerable cost savings to you in the process. And to take it one step further, you are not penalized in any way if there are services that you have already taken care of. Already have a domain name and/or a website designed, and just need a reliable place to host it? No problem, we're not going to force you to purchase package services that you don't need. Unlike most hosting companies, getting the fast money by selling unneeded services is not our purpose. Developing long term working relationships is our goal.
RocWorx can build up your online presence from nothing, providing a wide range of services that can be tailored to fit YOUR needs, not by selling large overpriced pre-packaged systems that you have to try to fit your desires into. IN fact, you will notice that RocWorx does not provide for a buy-online shopping system for our services. We refuse to sell any of our services to a client until we've had some kind of discussion, whether it is in person, on the phone, or by email, to determine exactly what you need. This is what makes the difference between RocWorx and our competitors...a real working relationship with our clients.
Domain Names
Domain Names (such as yourname.com) are necessary for most forms of webservices, and vital for any company creating an online presence. Choosing one is a difficult process, and RocWorx has the experience to help you find a fitting Domain Name. We offer Domain Name Services to all of our clients. In fact, the yearly fee is waived for clients committing to a yearly contract cycle. And unlike many hosting companies that purchase domain names for you under their own name (a ploy to keep you on their hosting terms since you would have to forfeit your domain name if you left them), any domain name you choose is purchased under YOUR NAME. You have full ownership of it for as long as the term of registering exists. RocWorx simply manages it for you, to reduce the extra headaches. If you decide to leave us, the Domain Name goes with you.
Website Design
Custom Website Design is the primary service we have focused on over many years. Knowing the frustration of many of our past clients in having to find different sources for their various web needs, we began to offer a larger spectrum of services. At the core however, we follow the same design goals we always have: giving the customer what they want. We do not offer pre-designed template websites that simply need a logo and new text slapped on them and put online. We build websites from scratch, following a detailed design plan based on what the customer envisions, and needs. The end result is a unique website that our customers can be proud of.
Website Maintenance

Our services are available after the initial website design and implementation as well. Maintenance agreements are available to make sure your website is routinely updated to your specifications. This holds true if you had a previously made website as well, and have transferred it to our hosting server. RocWorx excells at modernizing old sites, a common need for any website made more than 2 years ago, in order to bring it up to modern web compliance standards.
Hosting
Once a domain name is obtained, and a website is built, a Hosting Server Package is needed to make that website available to the public, and to provide for e-mail services, among other things. The hosting server provides for the storage of the client's website, email, and other data necessary to share online. This type of internet server is accessible by the internet 24/7, and provides for extremely fast data-transfer rates and high transfer quotas to accomodate as much traffic as possible.
Email Services
One of the most important communication sources for any business is email. Once you have a domain name and a server host for it, you will be able to send and receive email using that domain name. Let's face it, sales@yourname.com is a lot more professional than using one of the public email services (such as Yahoo, Hotmail, AOL, etc.) available today, not to mention a significant expansion in size and storage quotas. RocWorx can set up an almost unlimited number of custom email accounts for you, including automatic forwarders, auto-responders, and mailing lists. Accessing your email account can be setup using your favorite email client (such as Outlook, Eudora, and Thunderbird), and can even be accessed via WebMail clients from any computer connected to the internet, in case you are on the road and need to check your email from a public connection.



E-Mail Spam Protection

Anyone who has had a widely distributed email account knows the difficulties of unsolicited (Spam) emails filling their inboxes. Businesses are constantly battling these problems, and RocWorx has a number of possible solutions to fit your needs.

Website Statistics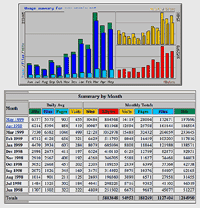 Curious how many hits your website is getting? Even better, would you like to know when those peak times are, where the visitors are located, what browser they are using, and how they found you? RocWorx has two seperate Website statistic analysis tools that can be activated in your site, and allow you to access those statistics from your web browser.

Logos & Graphics
When a business comes to us to build a website, one of the first questions we ask is if they have a logo or any pre-existing artwork for their business, such as those used in brochures. While we are adapting such graphics for web use, it is quite common for us to hear from clients how they wish they had better logos or artwork for us to use, or how they wish they could modernize the look of their company. New logo design and artwork creation is a side product of our website design services, and we have provided a number of past clients with 'visual upgrades' to their business upon request. Typically when such a request comes in, we will provide a variety of samples that they can choose from, which can then be fine-tuned or combined into what the client envisions. If you are looking to modernize the image of your business, there is no better time to do it than when you have a website built.
Since websites tend to be fairly graphics intensive, our design team has a lot of experience in creating or modifying images, artwork, and web graphics. If you have items you need to be converted into an optimized web-ready format, we can do that for you, along with cropping, proper ratio resizing, color and flaw correction, etc. There is also an experienced CAD draftsman on staff that can create technical drawings for you as well.
WordPress Blogs

Want your own Blog? Let RocWorx install and set up your very own WordPress Blog for you, and even create a new theme template for it so it integrates seamlessly into your website! Our servers easily host WordPress, the most popular Blogging and mini-Content Management System (CMS) available.
Dynamic Content Modules
RocWorx can install a number of dynamic modules into your website, including: Guestbooks, Blogs, News systems, Calendars, counters, chat systems, Bulletin Board Systems, customer support/knowledge base systems, survey/vote systems, databases, and much more.
E-Commerce & Security

With the ever-growing online retail market, and the lowering of costs to establish a business online, small businesses are finding it considerably easier and more affordable to integrate shopping systems into their websites. RocWorx can provide the shopping cart scripts, the SSL Certificate security systems, and even connect our clients with trusted online Merchant Services (credit cards and other electronic payments).




Search Engine Submittal & SEO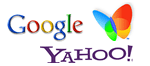 Although premium search engine listings are becoming increasingly costly, RocWorx can provide the basic entry submittals for the most popular search engines available (Google, Yahoo, MSN, etc.). If you are looking to improve traffic to your Web site, RocWorx can coordinate Search Engine Optimization (SEO) services for you, including optimizing your website to improve page ranking, and conducting search engine advertising campaigns for you. More information on our SEO services can be found HERE

Ask us!
Need more information on any of our listed services, or need to know about the many services not listed above? Use our CONTACT form, or EMAIL us with any questions, and we will get back to you as soon as possible!